"There's a huge disparity and inequality regarding abortion, depending on your postcode, depending on which state you live in," Marie Stopes Australia medical director Philip Goldstone said.
It is estimated that one in four Australian women have an abortion, while between 0 and 10 per cent of surgical abortions are performed by public hospital systems around the country. About 1500 of Australia's 35,000 GPs are registered to prescribe a medical termination, which can be done in the first nine weeks of pregnancy.
To add to the confusion around abortion, it is still in the criminal code in Western Australia and South Australia, as well as in NSW. There is also a wide range of gestation limits around the country before two doctors are required to sign off on an abortion. For example, it is 16 weeks in Tasmania, 22 weeks in Queensland and 24 weeks in Victoria.
"This leads to confusion for women [and] their medical practitioners," Marie Stopes' analysis says.
Other barriers to access persist around the country. Women in Victoria benefit from an abortion via telephone service but it remains difficult to find providers in regional and remote areas. Recent research published in BMC Medical Ethics also highlighted issues with the state's conscientious objection clause. This indicated some doctors tried to deter women from having an abortion or made them feel guilty.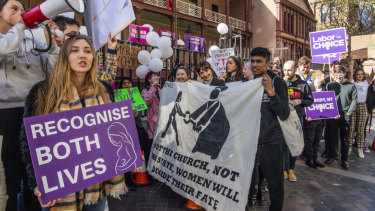 In South Australia, GPs are not able to prescribe medical abortions outside hospitals or approved facilities, while in Tasmania, private and public access to abortion services is very limited. Last year, Marie Stopes saw a tenfold increase in patients travelling from Tasmania to Victoria to seek an abortion with their services.
A bill to remove abortion from the NSW criminal code passed the lower house last week. It is due to be reviewed by the Parliament's social issues committee this week, before going to the upper house for a final vote. The bill allows for abortions up to 22 weeks upon request. Women beyond 22 weeks would need the support of two doctors and will only be performed at public health facilities.
Dr Goldstone said that with the decriminalisation of abortion in NSW, it should be provided as part of the public healthcare system.
Judith Ireland is a political reporter for the Sydney Morning Herald and The Age, based at Parliament House