CONCORD – Brandon Blalock knew his new point guard was a different kind of player.
Long before Ja-el' Miller ever took the court in the fall of 2016, Blalock, the Central Cabarrus girls basketball coach, told local reporters the talented freshman was going to be a player to watch.
"I'm telling you …" Blalock promised the Independent Tribune in an effort to convince the newspaper to invite Miller to a preseason photoshoot normally reserved for upperclassmen.
But even then, Blalock didn't know just how different Miller would be.
A short time later, during a team dinner, he found out.
"Ja-el' was sitting over there with some cake, eating it and hiding," Blalock recalled. "I said, 'Ja-el', why are you eating your cake like that?' And that's when her mom told me she had diabetes."
Blalock laughs out loud remembering the look on Miller's face as her mother, Yoshada, delivered the news to her coach.
"I said, 'Oh! That's why she's doing that, knowing she's not supposed to have that big piece of cake!'"
It was a funny episode, but it certainly is a serious issue.
Diabetes is a chronic disease that occurs when the pancreas does not produce enough insulin — a hormone that regulates blood sugar levels — or when the body cannot effectively use the insulin it does produce. Diabetes is the seventh-leading cause of death in the United States.
Still, being diabetic hasn't inhibited Miller from being a standout basketball player.
In Cabarrus County girls basketball circles, she ranks among the best. The 5-foot-4 Miller currently leads the Vikings, the No. 1 team in the Independent Tribune's Cream of Cabarrus Girls Basketball Rankings, in scoring (14.1 points per game) and assists (6.2).
Miller is known throughout much of the state for her court savvy and leadership. She's among the players who'll receive heavy consideration to win the South Piedmont 3A Conference's Player of the Year award. And college coaches are pursuing her to run things at their programs.
Miller's road to reach such a high level has been, well, different from most of her peers. But never, ever did she doubt that she would get here.
Not even after receiving life-altering news when she was just really getting used to elementary school.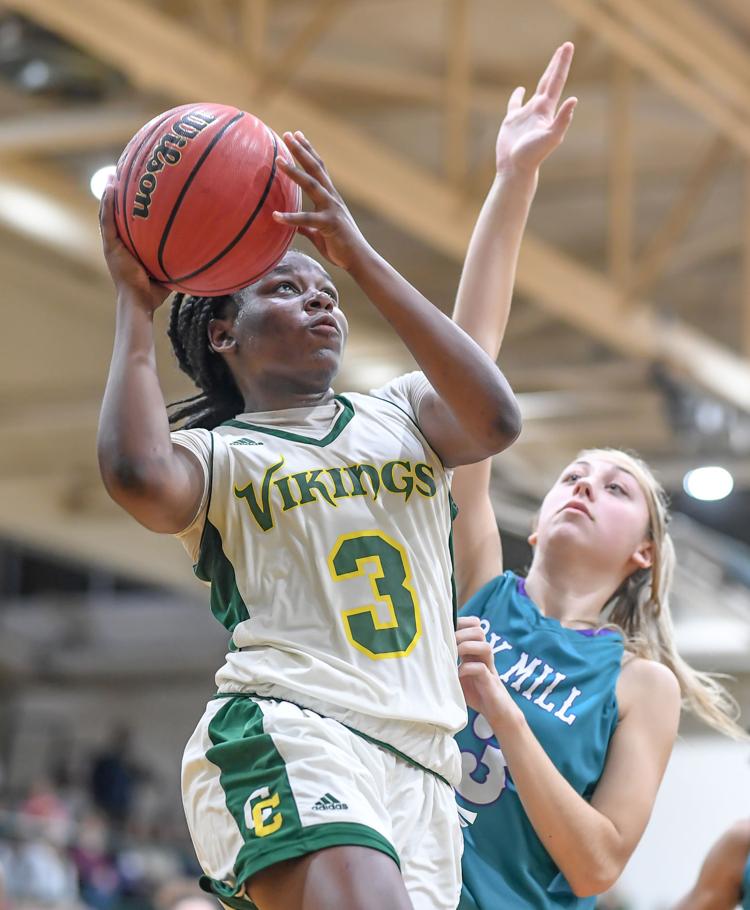 Not-so pleasant birthday surprise
Miller will never forget her seventh birthday. That year, she and her brother were having a joint party to celebrate, and the whole family was having a blast.
But as the day of gulping down cake and sugar-filled drinks wore on, Miller began to feel worse and worse.
"My mom noticed that I was drinking and using the bathroom constantly and constantly," Miller recalled. "Around 6 o'clock, I felt so bad that I just went to sleep, and my mom was like, 'No, something is wrong.' I was normally up to, like, 10 o'clock."
Not wanting to risk anything, Miller's mother took her to the hospital. There, Miller and her family received the shock of their lives. After doctors ran several tests, they learned she had diabetes.
And the situation was dire.
The normal blood sugar level for someone with the disease, according to the American Diabetes Association, is 80-130 milligrams per deciliter.
Miller's blood sugar level far exceeded those numbers. Dangerously so.
"My blood sugar was, like, 1,456 or 57," she explained. "But it was crazy, because I was just regular, up playing, laughing. The doctors kept coming in to see what was wrong because they had never seen someone with blood sugar that high do what I was doing. They told my mother that I should've been in a coma or dead."
When Miller finally was able to leave the hospital, her parents took immediate action. All the junk food in the house was either thrown away or put in a place they hoped she couldn't get to it.
"I would sneak and get it sometimes," she said, sheepishly. "It was tough, because I was just 7 years old, and I'd have to measure everything, whether it was a bowl of cereal or ice cream.
"It was hard at first, because I'd be at school and see other kids eating stuff. I didn't understand what diabetes was, really. I just had to talk to myself and say, 'Hey, you have diabetes. You've got to take it serious.'"
Miller is a Type 1 diabetic, which is most common among adolescents and means her body produces little or no insulin. As a result, she has to take daily injections to get the insulin body needs.
When she was first diagnosed, she was put on an insulin pump, which was attached to her body and delivered the hormone through a long, thin tube. Later, she had to make the switch to hypodermic syringes, and she wasn't crazy about giving herself the painful shots each day.
These days, Miller uses another type of insulin pump called the Omnipod, which gives her more freedom and doesn't require a tube, something very important while she's on the court.
But for all her gifts on the court and passion for the game now, Miller didn't start out as a baller.
Miller grew up in a basketball family.
Her father, Todd, was a player at Concord High, where he mother was a cheerleader. Miller's grandparents, on both sides of the family, had been ball players, too, and she said her father always watched hoops, talked about the game.
But for some reason, Miller started out doing something a little different.
"At first, I was a ballet dancer," she says with a laugh.
"But then," she adds, "I was like, 'No, that's not for me.'"
Miller says she exchanged her ballet shoes for high tops when she was in seventh grade.
"One day I just picked up a ball, started shooting outside, and I just fell in love with it," she said. "That was my passion after that."
Her father still didn't quite believe she was serious about making the move to the family business, though.
"Then one day, she went to a camp they had at Concord," Blalock recalls Todd Miller telling him. "They had her doing some (drills), and then she went outside and just started doing it on her own. And he said, 'Well, I guess she's serious about it.'"
But she still needed some work.
"I wasn't good at it," Miller said. "I only had one hand – I could only do things with my right hand. But I went all the way through seventh grade and then that whole summer working on it."
Miller would take cups from her family's kitchen cabinet and use them as cones to dribble around outside, slowly using her left hand more and more. By her eighth-grade year at Concord Middle, she noticed the difference.
"My handles were tighter," she said. My defense was there – some days."
After a while, Miller started making a name for herself on the travel-basketball circuit. While most players her age were focused on their point totals, Miller loved to be the conductor of the on-court orchestra. Her no-look passes would dazzle fans and baffle defenders, and they made her teammates oh so happy.
"I just developed it," Miller said of her passing skills. "I used to play against boys a lot. I used to admire (former Concord and Cannon point guard) Alon Parker. I just loved his passing game. I would just watch him all the time and try to do what he did.
"In college, I used to watch (Duke point guards) Quinn Cook and Tyus Jones. I love watching them. People started saying I was pretty good."
Before long, word about a heady point guard with a passion for passing the ball reached Blalock. He got a look at her in summer workouts entering her freshman year at Central Cabarrus, and he began making his plea to local media to pay attention to his rookie floor general.
"What makes her special?" Blalock said to a reporter this season. "It's clear: Her vision is uncanny. I've had two explosive point guards before her, but I don't think either of them had the same type of vision.
"She sees things that others don't. I remember one game we were playing against Davidson Day. I had seen one thing happen from the sideline. All of a sudden, 'Shooomp!' I was like, 'God, how did you see that?' She shrugged her shoulders and said, 'I just saw it, Coach.'
"She's … she's just special," Blalock added. "And above that, she's a great person."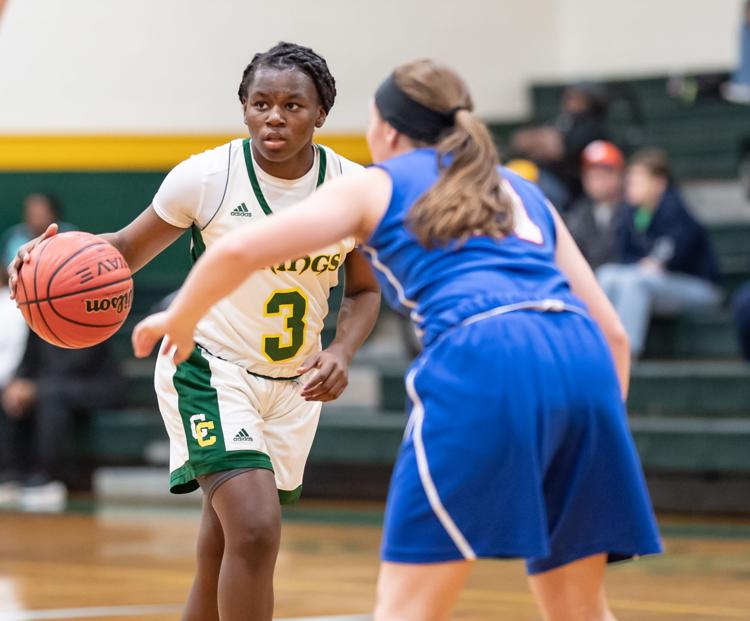 On the Central Cabarrus campus, Miller is rarely seen without wearing her trademark smile, be it walking the hallways or in the gymnasium.
She's even a bit of a cheerleader. Many nights, as soon as the Central girls finish playing, she dashes back out to the bleachers to stand front and center screaming support for the boys team. And she's a jokester.
Sometimes, people around her are not ready for such a ball of energy – especially her coach.
"She's laughing, jovial all the time," Blalock said. "She's non-stop. At 6 o'clock in the morning, she's like, 'Hey, Coach, let's goooooo!'"
Blalock chuckles as he recalls how many times that's happened.
"I'm saying, 'If you don't get out of my face right now …'" Blalock said. "She's like that all the time!"
Even during the toughest time during her career, Miller was upbeat.
In the summer before he sophomore year, Miller suffered a serious knee injury and was unable to play for months. It still didn't stop her from having an impact.
"Throughout her injury, she as at every practice, except for when she had rehab," Blalock recalled. "She'd be at every practice cheering for her teammates, coaching them. She became kind of like my assistant coach, running them through drills, talking to players, trying to get them where they were supposed to be.
"She was the one leading all the cheers for everybody that entire time. Every once in a while, she would call me and say, 'I'm sorry, Coach. I can't be there today. I've got rehab. I'll try to get there after rehab.' But she'd end up there every day. Dedicated. Every day."
Added Blalock, "She has the energy to get everybody going. I know that every time she steps foot on the floor, she's going to have that energy. If she doesn't, I know there's something wrong."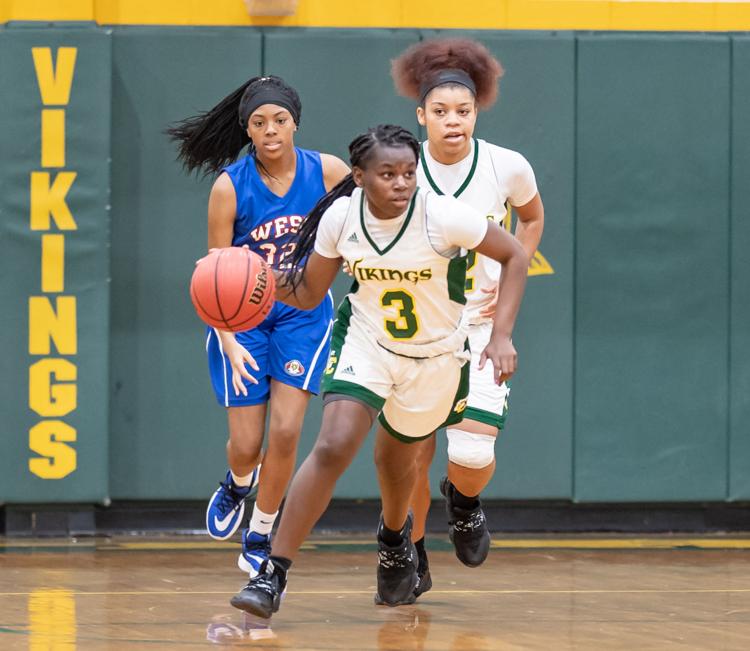 Miller still faces challenges balancing diabetes and basketball. But she pulls it off, although both she and Blalock admit that it's been a process.
"Her freshman year … boy, boy, boy! She was bad," Blalock said. "She'd have more low times (with her blood sugar), and she'd start looking weak or shaky. But we made an adjustment. We started putting snack bars on the bench so she could raise her level.
"Or sometimes, it would be high. When that happens, it's kind of obvious. When she starts getting really sluggish, I'll say, 'You need to check your blood sugar.' But she started doing better her junior and senior year. She got more mature, and it's been good."
Now, Miller has a regimen she follows closely.
Two or three hours before games, she repeatedly checks her blood sugar to see which direction it's going – high or low.
"My range is 80 to 140," she said. "So if it's high, they give me medicine. If it's low, I eat something – snack bars or something with peanut butter. I have to keep on checking in with my parents. After two or three hours, I check it 30 minutes before the game. My final check is five to 10 minutes before a game."
Only once has she forgotten to check her blood sugar before a game. It was during a state playoff game.
"My blood sugar was soooo high," she said. "You could tell, because I was sluggish, slow. I was just out of it during the game."
When her blood sugar was taken during the game, the reading on her glucose meter simply read, 'HI,' which meant it too high for the device to measure. That usually means a person's blood sugar level exceeds 500 mg/dl.
"I took insulin during the game," Miller said. "My dad can do it from his seat with the (Omnipod). He just has to be 5 to 7 feet away.
"I sat out for a little bit, too, to calm down," she added. "After that, I was all right."
Then Blalock chimes in: "She still had 25 (points) and six (assists)."
It's clear nothing – not a disease nor a human defender – is going to get in the way of Miller and her goals. College programs haven't been deterred, either. A number of programs, including Winthrop University, have been communicating with her, and Blalock expects a school to offer a scholarship soon.
Right now, Miller said, her immediate goal is to help the Vikings win the SPC title for the second year in a row. Then, she'll worry about college, although she certainly has a plan.
"I just want to keep getting better," she said. "I just want to learn how to execute everything better. When I get to the next level, I just want to make sure I'm coachable and that I understand everything, so I can be the best player I can be.
"After college, I think it'd be cool to have a coaching job. Maybe become a P.E. teacher or something. But it has to be something to do with basketball – anything that has to do with basketball."
By then, there'll be no need for her to hide. After years of successfully managing her diabetes and her basketball career, she can have her cake and eat it, too.
Now, she knows it just takes an extra dose of insulin from her Omnipod.