Towering buildings in Noida attract lakhs of people wishing to have a home up in the sky. However, societies that have come up in the last seven to eight years, many as recently as just one year, are plagued with a consistent problem – malfunctioning lifts. From missing their school buses to having traumatic experiences of getting stuck in their buildings'
elevators
, residents of skyscrapers in Noida are living under the constant fear of faulty
lifts
, which has affected their day-to-day lives.
According to the residents of societies in Noida and
Greater Noida
West – which have societies with as many as 25 storeys each – almost every day an elevator malfunctions and most of the times, residents get stuck inside. For instance, at La Residentia Apartments in Greater Noida West, the lift malfunctioned 60 times in just one week last month.
'No mobile network, no intercom and no one to hear our calls when we're stuck in the elevator'
SC Bhalla, a 66-year-old resident of JM Orchid in Sector 76, says he lived through a nightmare when he got stuck inside the elevator of his building. "I was going to the ground floor from the 12th floor when there was a sudden jerk and the lift fell right through to the basement. I did not get any mobile network, there was no intercom in the lift and the lift's alarm was not working. It was absolute darkness and I felt like the walls were closing in on me. I cried for help but there was no one in the basement. Finally after about 40 minutes, someone heard my calls and I was pulled out of the lift," says Bhalla.
Maintenance supervisor of the elevator firm says all problems in the elevator have been fixed. "There was some issue with the lift when the incident with Mr Bhalla happened, but as soon as we came to know about it, it was resolved within three days," says Ghanshyam, maintenance supervisor, OTIS. Sector 137's Paramount Floraville resident Amit Gupta recalls how a woman fainted inside the lift after it malfunctioned. "There have been numerous cases of lifts malfunctioning in our society. A month ago, an elderly woman fainted inside a lift after it malfunctioned. She was rescued after an hour. Another woman, who was pregnant, got a
panic attack
when she was stuck in a lift a few weeks ago," says Amit.
According to the maintenance supervisor, however, the lifts are working just fine. "There have been no problems in the lifts of Paramount Floraville ever since we took over the maintenance nine months ago. There are some personal agendas due to which false allegations are being levied on the maintenance firm," says estate manager Kapil Gupta.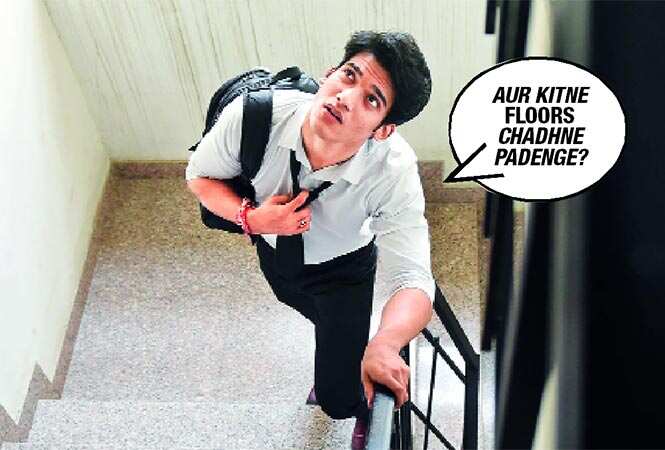 'People in the society have developed a phobia of lifts'
Malfunction in lifts is not just a once in a blue moon ordeal but a regular affair, which has instilled a fear of elevators among residents. "People in the society have developed a phobia of lifts because they get stuck in them so often. Whenever we step into the lift, it is like putting ourselves in danger. Koi nahi jaanta kab kya ho jaaye. Living on the 14th floor, we don't even have the option to take the stairs," says Amit.
Greater Noida West's Ajnara Homes resident Dinkar Pandey's kids have refused to step into the lift alone. "I live on the 21st floor and whenever my kids go downstairs, I have to go with them in the lift. They got stuck twice in the lift and it has left them completely traumatised. They refuse to enter the lift alone," says Dinkar, who has been living here for a year now.
Faruque Khan, the estate manager of Ajnara Homes, says, "Whenever there is an issue, the housekeeping staff works their best to resolve it at the earliest. The maintenance of the lifts is always up to date and there is no callousness from our end."
'My children missed their school bus twice because they got stuck in lifts'
Getting trapped in the lift may not be the best way to start your day. But for Noida residents, getting late for work or school because of faulty lifts is not unusual. "I got stuck in the lift while I was leaving for office last month and I could not get out for about half-an-hour. The experience was so scary that I could not work the whole day because I felt uneasy and anxious," says Sumil Jalota, a resident of La Residentia. The maintenance supervisor of La Residentia could not be reached after repeated calls and messages.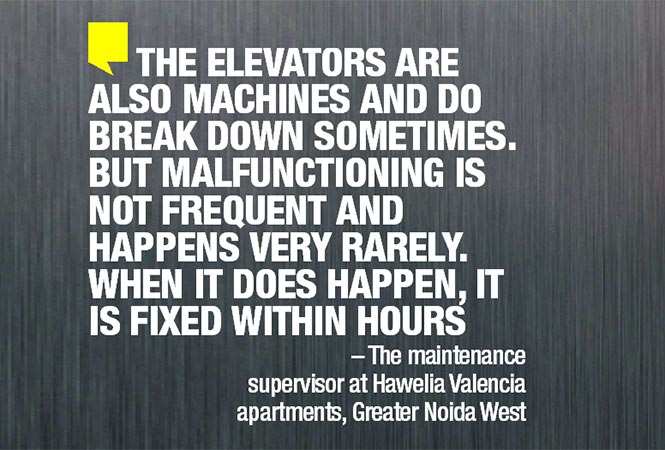 'We moved to a lower floor because of faulty elevators'
While it may be tough for flat-owners to move out of their houses located on the upper floors, tenants have moved to the lower floors owing to the consistent problem of faulty elevators. "We used to stay on the 18th floor but have now moved to the second floor of the same society, because my mother once got stuck in the lift and refused to step inside it afterwards. We had to move from that house as my mother did not step out for weeks after the incident," says Sukriti Manchanda, a resident of Hawelia Valencia Apartments in Greater Noida West.
According to the maintenance supervisor at Hawelia Valencia apartments, the lift malfunctioning is not frequent. "The elevators are also machines and do break down sometimes. But malfunctioning is not frequent and happens very rarely. When it does happen, it is fixed within hours. The maintenance of the lifts are always up to date," says the supervisor who did not wish to be named.